Dogs and Cats are CARNIVORES (MEAT EATERS)
WHAT CAN I FEED MY DOG?
Meat: Beef, Chicken, Fish, Lamb, Turkey, scrambled eggs and even raw eggs.
Give 70% meat
I give raw egg just once a week. Some believe that raw egg pulls the vitamin b out of the body, but if you feed the entire egg, there is avidin and biotin in the egg to balance itself out. Egg would not be your only source of food everyday.
WHAT CAN I PUT WITH IT?
Most vegetables for example: peas, green beans, carrots, broccoli, some fruit, like bananas, applesauce(unsweetened). Add 5-10%

It's that time of year...the Holidays so...Don't forget the Pumpkin. Poos4u dogs and puppies just love pumpkin. It is also helpful to firm up loose stools. Just use the plain canned pumpkin and add it to your recipes. Sweet potatoes are good as well. Both pumpkin and sweet potatoes offer a little more fiber than other white starches.
I do not feed my dogs pre-mixed vegetable packages sold at the store. I mix my own, because most mixed vegetables have mostly corn in them. Feed a dog whole kernel corn and whole kernel corn will come out the other end. They don't digest corn.
Very small amount of potatoes, sweet potatoes, long grain brown rice, oats or barley. These are starches and of course carbs. They need to be cooked and add only 5- 10%
Just make sure you NEVER give your dog GRAPES or RAISINS. These are highly toxic and can shut down the kidneys and liver.
IS MY DOG GETTING THE PROPER NUTRITION?
Just like a bowl of cereal can be nutritious, you would not want to eat it every meal day in and day out. Dry food is kibble or in my terms like having cereal. It is great to have or snack on, but not base you entire diet on. Most animal nutritionist have a rule of thrumb, Dogs 70% protein, preferable meat.
Cats 80 +% protein, definitely meat.
Stay away from the foods that are toxic like:
1. Chocolate
2. Onions
3. Grapes or Rasins
4. Macadamia Nuts
Then try different things. Some dogs love carrots, some like zucchini, some prefer beef more than chicken. Dogs like variety.
HOW CAN A DOG OR CAT EAT RAW, BUT NOT HUMANS?
Food ferments in a human digestive tract ( a mile long intestine), but passes through a dog or cats quickly with only a few feet of intestines. When a dog or cat eats raw meat they also get enzymes that help them to uptake and utilize the vitamins and minerals in their food. The raw enzymes also keep the urinary tract at a much more acidic level, which is needed to deter bladder and kidney stones and crystals. Dogs stomach acidic PH should be about a 1 as apposed to a human at 5-6 PH. Humans need to be more alkaline in their body PH, where dogs and cats need to be more acidic. Since dogs have such a short digestive system, this is why if given any grains they need to be cooked.
GRADUALLY ADD COOKED AND RAW
A rule of thumb is add 25% for a few days, then go to 50%, then 75% until your dog is on a natural home prepared feeding schedule. By the way, your pet will eat less over time. They are getting more nutrition from a prepared diet. They may have loose stools for a few days. This is normal. This is the body's way of getting rid of toxins. Generally they will drink less water on a home prepared diet, because they are not eating dry kibble all the time. They are getting more moisture rich food. Of course, I would not advocate feeding a sick or debilitated pet raw until their system is stronger and more healthy.
WHAT ABOUT LOOSE STOOLS OR DIARRHEA?
Pumpkin, 100% real pumpkin in the can is great to help with loose stools. Slippery Elm is also effective. Most vets will recommend IMODIUM for diarrhea. If diarrhea persists, have a fecal done, or a blood test. Coccidia and Ghiardia can cause loose, bloody stools. These are treated with medications like Albon and Flagyl that you get from your Vet. Alot of times breeders and Vets will send puppies home with Albon to help with the loose stools that can be part of just stress from a change and new environment. Albon is a low grade antibiotic. Flagyl is used for Ghiardia and in cases where nothing is found and you just need something stronger to help with lower intestinal problems. Make sure your pet is getting enough fluid. Pedialyte will help. If your pet is dehydrated and won't drink, try adding a little milk, apple juice or a splash of sweet tea, or flat 7Up to their water to entice them to drink. I don't care what any vet says... I feel that when people are getting sick with viruses, those same viruses can effect our pets. I can not tell you the times people have said they were sick with diarrhea and then a couple days later their pet had it. And it seems like every year the flu bugs and viruses just get worse and linger longer and are harder to recover from. A strong immune system is the key. Proper nutrition is the answer for a strong immune system. Did you know that 80 percent of our immune system is in the intestines or gut. Probiotics or beneficial bacteria are necessary for all mammals to ingest and help keep their intestinal tracts in order. Your dog can have yogurt. Make it greek yogurt because it is much higher in protein content and your greek yogurts contain several types of beneficial bacteria. Give yogurt separately as a treat or mix it in with their prepared meals or even add a spoonful or two with canned food. They can have probiotics or beneficial bacteria daily. Don't forget to eat your greek yogurt daily too.
A Feeding Tip:
Don't mix dry food with wet or prepared food. Your dog will probably throw it up. They need to break up and chew their dry kibble. When it is mixed with wet they just swallow it down. Then it comes back up. I compare it to putting cracker chunks in peanut butter. You might eat peanut butter on crackers, but you will chew it. If you ate peanut butter with big chunks of crackers in it and just swallowed, you would probably throw up as well.
Below are some typical meals:
Breakfast Eggs
1-2 scambled eggs,
2Tablespoons- 1/4 cup raw hamburger beef ( if you prefer steam or cook your beef)
1 Tablespoon Yogurt
adjust this for the size of your dog or how many you are feeding. Scamble the eggs, add the raw beef and top with yogurt.
Chicken Livers
This is an organ meat and should be given once a week
1 tub of chicken livers
1/4 cup long grain brown rice or natural oats
Rinse the livers and place in a 1 1/2 to 2 quart sauce pan. Add the rice or oats, then cover in water. Cook on very low heat around 3. Cook until the rice or oats are done and the liver just turns slightly gray. It should be similar in consistency of a thick gumbo. Now you can freeze extra in small single serving containers for your pet. Just remember not to heat or defrost in the microwave. The microwave kills all your enzymes, vitamins and minerals. So when you microwave your food, you only have proteins, carbs, sugars, fats and starches, no vitamins or minerals. Just lightly warm in a pan til the chill is off. Livers are high in protein and iron.
Yummy Omelet
Fry 2 eggs in 2 Tablespoons of Coconut Oil, top with bean sprouts and grated cheese.
This is from the book by Ann N. Martin, Food Pets Die For
She has recipes in the back of the book, but in my opinion and several nutritionist, many are too high in carbohydrates. Keep that in mind with any recipe.
Chicken or Lamb Holiday meal
2 Chicken thighs, or breast or Lamb
1 Sweet Potato
1/4 cup of oats
1/4 cup of canned Pumpkin
I cook most meals in one roasting pot or in the crock pot. Place all the ingredients in your roaster and cover with water. Cook until done. If you are using a meat with bone, make sure to debone before feeding your pet.
NEVER FEED YOU DOG OR CAT COOKED BONES!
I use chicken thighs because there is only 1 bone to remove.
Here is where you can add variety by adding a couple Tablespoons of Yogurt or some canned Pineapple. Pineapple has bromelain which is an enzyme and is high in vitamin C, which is acidic.
SCRAMBLED EGGS
1 scrambled egg, cooked
1 Tablespoon Natural Balance Beef Log, shredded
1 Tablespoon of Yogurt
scramble egg in coconut oil for the added benefits of killing candida bacteria. Sprinkle beef log on top of eggs. You can replace the beef log with shredded cheese if you like. Top it all with Yogurt for beneficial bacteria to aid in digestion and keep the intestinal tract in order. See photo below: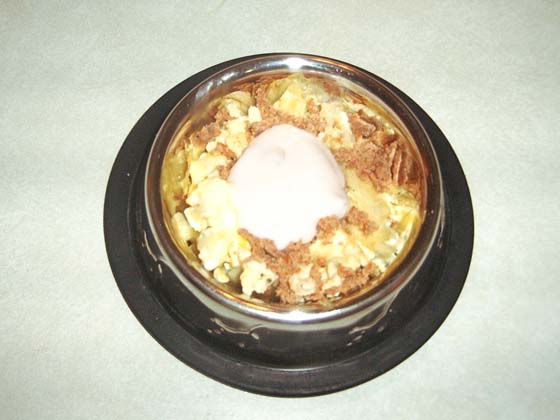 FROZEN PEANUT BUTTER YOGURT TREATS
32 oz Vanilla Yogurt
1 cup Peanut Butter
1. Place the peanut butter in a microwave safe dish & microwave until melted.
2. Mix the yogurt & the melted peanut butter in a bowl
3. Pour the mixture into cupcake papers & freeze
Peanut Butter Bites
This recipe is from the book "Doggie Desserts" by Cheryl Gianfranceso
3 Tablespoons vegetable oil
1/4 Cup smooth peanut butter
1/4 Cup honey
2 Tablespoons water
1 1/2 teaspoons baking powder
2 eggs
2 Cups whole wheat flour
In large bowl, mix all ingredients until dough is firm. If the dough is too sticky, mix in a small amount of flour. Knead dough on lightly floured surface until firm. Roll out dough half an inch thick and cut with cookie cutters. Put the cookies on a baking sheet half an inch apart. Bake at 350 degrees F for 20-25 minutes. When done, cookies should be firm to the touch. Turn oven off, and leave cookies inside for 1-2 hours to harden. Makes about 40 2 inch long cookies.
These are just some examples to help you learn how to better feed your pet. Research and be informed. A lot of Veterinarians will not advocate a natural or even a raw diet, but most Vets are not Nutritionists. Each dog is different just like we are all different. A couple books for reading are:
The Nature of Animal Healing, by Martin Goldstein, D.V.M.
who is Vet and Nutritionist for Martha Stuart's dogs and Opray Winfrey's dogs. He was just on Oprah in April 2007.
Dr. Pitcairn's Complete Guide to Natural Health for Dogs & Cats
Natural Nutrition for Dogs and Cats, by Kymythy R. Schultze, C.C.N., A.H.I
Foods Pets Die For, by Ann N. Martin
Another great help for nutritional needs is a monthly newsletter I quite often refer to